About our clinic
Located in Waxahachie, TX, Waxahachie Veterinary Clinic is a full-service small animal veterinary hospital. The facility includes a fully-stocked pharmacy, surgery suite, in-house x-ray and ultrasound, a closely monitored hospitalization area, and an outdoor yard for walking hospitalized dogs. We provide a high level of care utilizing our in-house lab & testing as well as using external laboratories. Our hospital provides excellent medical care with exceptional customer service. We are always evolving with new and exciting technology, yearly CE, and working with local specialist.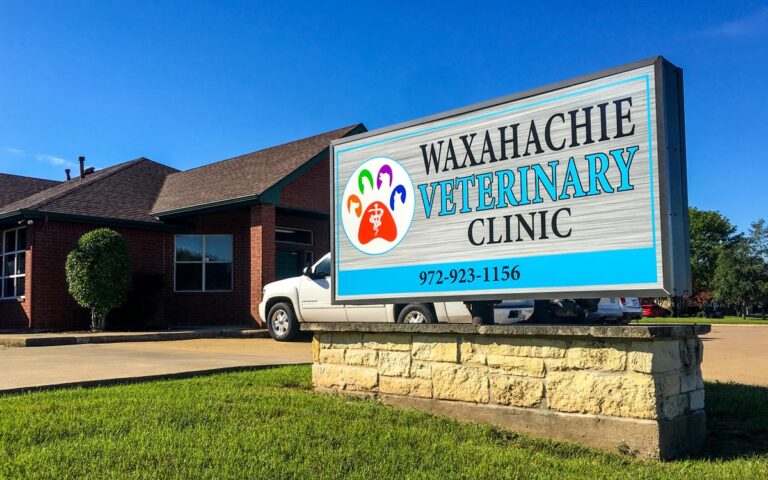 Hours of Operation:
Monday
7:30am – 5:30pm
Tuesday
7:30am – 5:30pm
Wednesday
7:30am – 5:30pm
Thursday
7:30am – 5:30pm
Friday
7:30am – 5:30pm
Saturday
7:30am – 12:00pm
Sunday
CLOSED
Address:
2300 Brown Street
Waxahachie, TX 75165
Phone / E-mail:
1-972-923-1156
info@waxvetclinic.com

Payment Methods:
Clients are required to pay in full for all services received on the day they are provided, or upon discharge for inpatients.  Payment options include the following, they may be made by cash, check, VISA, MasterCard, or Discover.
We at Waxahachie Veterinary Clinic realize that unexpected illness may affect a pet and unexpected expenses may occur as well.  We do not directly finance client accounts, but a financing option is available through Carecredit.
If you would like to apply for an account before you come see us please visit www.carecredit.com to apply for a Carecredit account.  If you would feel more comfortable doing the application at our clinic please see a receptionist or technician while you are here.  We would be more than happy to help.